FEAR THE DRAGON — A CHAMPION RACEHORSE AND YOUNG OUTCROSS SIRE FOR New Zealand BREEDERS
Available again in the 2020-21 Breeding Season
DRAGON AGAIN-ARMBRO CINNAMON (BY WESTERN IDEAL)
p, 2, 1:50.6f; 3, 1:48.8s ($US1,578,547)
Bay horse. 15.3 hands. Foaled 2014
AND NOW FOR something completely different — a new sire who was a phenomenal racehorse by a stallion whose bloodlines have barely left a hoof print in New Zealand.
We're talking about Fear The Dragon who impressed the harness racing world in 2017 with his dramatic come-from-behind and first-over wins in major races. His thrilling victory in the $1 million North America Cup over the previously top-rated colts Downbytheseaside and Huntsville was a classic demonstration of both heart and speed.
Fear The Dragon is by the deceased great stallion Dragon Again, who has sired the winners of almost $140 million. They include 10 millionaires and 38 winners of $500,000 or more. Besides Fear The Dragon, Dragon Again has produced the richest harness racing horse in history, Foiled Again 1:48f ($7,624,772), who recently won his 100th race and is still racing.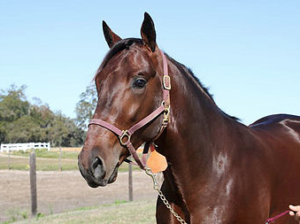 He is also the sire of the great mare My Little Dragon 1:48.1m ($2,386,055), Atochia ($1,807,828), the North America Cup winner Wakizashi Hanover 1:47.3f ($1,579,141) and many others. Dragon Again has sired 57 horses that have paced in 1:50 or better. His average earnings per eligible foal born is $92,149 and his average earnings per starter is a remarkable $116,899.
Fear The Dragon is a great outcross stallion that can be bred to any mare in New Zealand.
He is a great looking, fine boned, good sized horse — a stunning individual with flawless conformation and gait. He looks more like a thoroughbred in reality.
On his dam's side, Fear The Dragon is extremely well-bred being out of the Stakes winning Western Ideal mare Armbro Cinnamon who is the dam of six foals for five winners. Besides Fear The Dragon, she also produced the good Stakes winning mare Cinamony 1:49.3f ($532,404).
Fear The Dragon's second dam is the Matt's Scooter mare Mattaroni p2,1:52.4; 3,1:52.3 ($744,481) who was the Dan Patch, Nova 2YO Pacing Filly of the Year in 1998. Mattaroni is the dam of eight winners of $1,365,475. Four of her foals sold for over $100,000 and one sold for $280,000 at the yearling sales. Mattaroni is a half-sister to Village Jewel (by Abercrombie) who is the dam of the top stallion Village Jasper.
Click here to view Fear The Dragon's pedigree page
Part-owner Bruce Trogdon said he decided to send frozen semen "Down Under" instead of shipping the horse after Fear Then Dragon's semen tested so well for the process.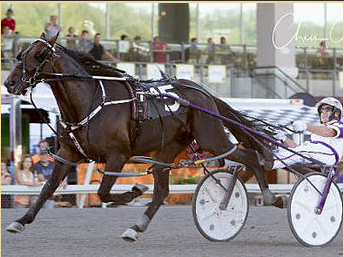 Standing at Midland Acres in Ohio, Fear The Dragon's book was full and overflowed in the first few days after his retirement from racing was announced. It included many of North America's top matrons. Bruce Trogdon's Emerald Highlands Farm supported the stallion heavily with his own powerhouse broodmare band which includes multiple national Pacing Mares of the Year.
Fear The Dragon had just 29 starts as a two and three-year-old winning 17 times with seven seconds and two thirds for $1,720,297, an excellent total in a brief career, and he won on all-sized tracks. He was retired 100 percent sound for stallion duties.
As a two-year-old he won five of his 11 starts including the $140,000 Elevation Pace, Arden Downs Stake and a leg of the Pennsylvania Sires Stakes (3rd in Final).
However, at three Fear The Dragon really came into his own. He was a multiple Grand Circuit stakes winner. He won the $1,000,000 North America Cup (elimination and Final) defeating Downbytheseaside 1:48.3f ($2,283,068), Huntsville 1:47.4m ($1,802,162) and Filibuster Hanover 1:48.3f ($1,239,973) in taking his lifetime record of 1:48.4.
At three he defeated his competition in impressive fashion including Huntsville (4 out of 4), Downbytheseaside (4 out of 7) and Filibuster Hanover (5 out of 7).
His Grand Circuit wins included the $500,000 Hempt Memorial (elimination and Final) defeating Downbytheseaside and Filibuster Hanover; the $400,000 Adios (elimination and Final) defeating Filibuster Hanover; the $500,000 Little Brown Jug (first heat) defeating Downbytheseaside and Filibuster Hanover; the $206,000 Tattersalls Pace (division); the $140,000 Elevation defeating Filibuster Hanover; and the Arden Downs, in addition to six Pennsylvania Sires Stakes legs.
Fear The Dragon was the second highest overall stakes winner in America in 2017. He won every race where the "big three" of Fear The Dragon, Downbytheseaside and Hunstville all raced together.
Said Trogden: "He will always be remembered for his tremendous gait and huge heart. He won on all-sized tracks, from on or off the pace, first-over, any way that he was asked. David Miller picked him to drive over all the others for a reason."
FEAR THE DRAGON
2022-23 Breeding Season Service Fee: Pay On Live Foal $6,000 plus GST. Pay on 42 day Positive Test $4,500 plus GST. Contact the stud for multiple mare discounts.
Contact Us: To book or discuss your breeding options call Brent on 027 752 2284 or Caine on 027 238 7717‬.
Breeders can also email the stud at maccalodge@yrless.co.nz