Otago and Southland's Leading Standardbred Breeding Base
Macca Lodge is Otago and Southland's largest breeding standardbred breeding base, catering for all of your mare's needs.
Each breeding season Brent and the team serve dozens of mares with chilled and frozen semen sourced from Australasia's leading studs.
These include:
Alabar New Zealand and Australia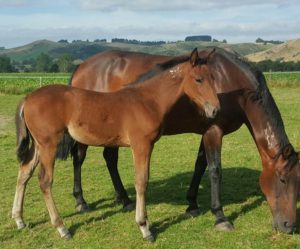 Woodlands Stud
Empire Stallions
Nevele R Stud
Haras des Trotteurs
And many more …
Macca Lodge welcomes both in-foal and dry broodmares to the farm all year round. Owning a broodmare has never been easier thanks to our extensive range of services.
Our experienced team can get your mare in foal to any of Australasia's best stallions.
We can also look after the resulting progeny from conception to birth and right through until it's time to go to the races.
You can chose to leave your newly in-foal mare at the stud knowing she will get the best of care from the heights of summer to the depths of winter.
As spring approaches, Macca Lodge will take no chances with your valuable bloodstock, offering a 24-hour foaling service.
Our deer-fenced paddocks, custom-built laneways and horse-friendly yards and stalls mean there is no safer place for your mare or newly born foals.
Once weaning time comes, our team can start on your foal's initial education.
We carefully teach your future pride and joy the basics needed for stable life, such as leading, tying up and walking on to a float.
Macca Lodge's 600 acres of highly fertile Northern Southland pasture is the perfect place for your foal to grow into a race track star.
Those lush pastures are complimented by the best in hard feed and mineral supplements.
As your foal continues to develop, breeders can take advantage of our breaking in, pre-training and training service.
Macca Lodge truly is a one-stop-shop!
Specific benefits
Top class facilities with proven results
24-hour supervised foaling for peace of mind
Access to quality chilled/frozen semen from the best stallions across Australasia!
The home of five top class stallions
600 acres of excellent quality grass year round
Quality nutrition with mineral hard feed
Irrigation in summer
Discount packages available for year round mares
Agistment and spelling available short or long term
Weaning service available
Breaking in and pre-training offered