FEAR THE DRAGON — THE MACCA LODGE SIRE MADE A STUNNING START TO HIS CAREER BY TOPPING TWO OHIO SALES
Macca Lodge stallion Fear The Dragon has made an incredible start to his siring career in North America by topping two yearling sales.
The rookie sire produced the top priced yearling at both the Ohio Selected Jug and the Buckeye Classic Sale.
Fear The Dragon incredibly produced seven of the top eight lots at the Buckeye Classic Yearling Sale in Ohio.
Fear The Dragon has a wonderful attitude and a will to win all top horses need.
Some of his yearlings from the Buckeye Classic Yearling Sale are already showing those kind of traits, before they have even been properly broken in!

Check out this video of Fear The Dragon's yearlings free-legged pacing.
And remember they have never worn hopples in their lives!
Fear The Dragon's success at the Buckeye sale was headed by his colt from Allamerican Ingot mare, Soggy Britches.
The striking yearling topped the sale when selling for $100,000, which equates to more than 15 times his sire's North American service fee.
The colt is a half brother to New Zealand sire, Johny Rock.
To say Fear The Dragon's progeny were in hot demand at the Buckeye sale would be an understatement.
Bidders sent a clear message that they were desperate to get their hands on the stallion's stock when Fear The Dragon yearlings filled seven of the top eight lots.
Earlier last month, a stunning colt from Mach Three mare, Stonebridge Damsel, beat out a huge line up when selling for a massive $US120,000 at the Ohio Selected Jug.
The colt, named Springbridge Dragn, was knocked down to one North America's top trainers in Ron Burke.
Check out the classy Fear The Dragon youngster's conformation and his brilliant way of moving in the video below.
Fear The Dragon's progeny were in hot demand across the Ohio sale, with 33 lots selling at an average of $US26,700.
Other highlights include a Fear The Dragon filly from Sportswriter mare, Dancin Caroll, selling for $US85,000.
A Fear The Dragon colt from Art Major mare, Eagle Yankee, sold for the big price of US$57,000.
Another Fear The Dragon colt from Camluck mare, Twin B Diva, also sold well, fetching US$56,000.

The strong selling of Fear The Dragon's yearlings in the first public offering is an outstanding result for the stallion and encouraging news for any New Zealand breeders who have sent their mares to him.
It also opens up an exciting opportunity for owners of Art Major, Sportswriter and Mach Three mares following the high prices Fear The Dragon yearlings from those dam-sires sold for.
Fear The Dragon's sale topper sold for the equivalent of more than $177,000 New Zealand dollars on today's exchange rate.
That equates to more than 34 times the price Fear The Dragon is available for ($4500 + GST) through Macca Lodge!!
To book your mare to Fear The Dragon click here
PANSPACIFICFLIGHT GELDING CASTLE FLIGHT RUNS FASTEST MILE OF YEAR IN North America
IT WAS described as a field of champions with Breeders Crown champion Beckhams Z Tam, the Grand Circuit champion Always A Prince and $1.5 million earner Freaky Feet Pete. Yet it was a seven-year-old gelding by Macca Lodge sire Panspacificflight who would hit the headlines after the $20,000 Open Pace at Harrah's Hoosier Park in Indiana on 31 May.
For Castle Flight beat them all to the line and stopped the clock at 1:47.2, equalling Sweet Lou's track record and setting the fastest mile time in North America so far this year. He paid $58 to win.
This was Castle Flight's seventh win of the year and 27th overall for a lifetime bankroll of $US276,000. Sweet Lou set his record in the 2014 $268,000 Dan Patch Invitational.
Countess of Arden makes it two from two for Macca Lodge sire Net Ten EOM
THREE-YEAR-OLD filly Countess of Arden franked a big private reputation when she won her first race in the south at the Invercargill meeting on Saturday.
From the first crop of new Macca Lodge sire Net Ten EOM, she impressed her handlers so much as a yearling that she was sent to top Auckland trainer Barry Purdon for a two-year-old campaign. But she didn't fire in three starts there so owners John and Judy Stiven brought her home to Tapanui to spell before handing her on to young Oamaru trainer Brad Williamson.
The bookmakers made Countess of Arden favourite in the standing start over 2200 metres. She narrowly avoided trouble at the start from the inside of the second row and settled back in the field before Brad looped the field to lead with a round to go and held the trailing horse out in the straight. The overall time wasn't flash but she ran her last quarter in 27.8, the best of the day.
Her win is a timely boost for Indiana-based sire Net Ten EOM ahead of the new breeding season. The first son of the North American siring sensation ill-fated Somebeachsomewhere to be available to New Zealand breeders, he left his first winner here when Wolf West won at Gore in August.
So that's two winners from two starters for Net Ten EOM in New Zealand!
Little Rascal wins Group 3 in 1:51.8 at Menangle
THE NEW SEASON in Australia has started with a bang for Macca Lodge sire Panspacificflight with two from his stellar first New Zealand crop starring on the metropolitan tracks in New South Wales and Victoria.
Six-year-old gelding Little Rascal scored the biggest win of his career with a narrow victory over the Len Smith Mile winner My Field Marshall at Menangle in New South Wales on 02 September.
The Ian Dobson-owned pacer grabbed the hot favourite in the shadows of the post in the $A30,000 Group 3 event, recording his fastest time of 1:51.8. He paid $33 on the tote.
You can watch Little Rascal's win here
And on the same night down at Melton in Victoria another Panspacificflight six-year-old caused another boilover. Last Flight In paid $26 when she came from off the pace to notch her 10th win in a $A16,000 mares race over 2240 metres. She rated 1:56. It was nearly one year to the day since her previous win.
Last Flight In, who was bred by the McIntyres at Macca Lodge, then backed up a week later with the biggest win of her career in her best time — an $A18,000 race in a mile rate of 1:53.
MACCA LODGE sire Panspacificflight provides two stars at the Hoosier Park meeting in Indiana on 08 July 2018
Four-year-old Panspacificflight mare Au D Lox Bluegrass broke the track record for older mares with a sizzling mile in 1:49.4. She was taken straight to the lead from a wide draw and posted fractions of 25.2, 53.6 and 1:22.2 before coasting away to win by five lengths. Au D Lox Bluegrass has now won five races this year and taken her life-time earnings past $US250,000. Footnote: She won again at Hoosier Park in 1:50.4 on 21 July and in 1:50.8 on 26 August.
Just a few races later Panspacificflight filly Jd's Chancey Gal won the Indiana Sires Stakes Final for three-year-old fillies with a mile in 1:51.6. This was her fifth consecutive win on the track and took her earnings past $US100,000. Jd's Chancey Gal, who won again in 1:52 on 22 July, is raced on lease from Panspacificflight's owner, Jacob Miller. He bred — and named — Jd's Macca Lodge, who has also been in top form at Hoosier Park with a recent best time of 1:50 neat and earnings of more than $US100,000.
Arden's choice continues to fly the flag for panspacificflight
HER RECORD speaks for itself. A Group I win at two. Six further Group I placings and six more wins. Total stakes of more than $275,000.
Four-year-old mare Arden's Choice continues to be a great advertisement for Panspacificflight, racing at the elite level in Auckland against the likes of Lazarus and Dream About Me. Perhaps her best run was her third placing in Dream About Me's Auckland Cup on New Year's Eve, which was run in race record time of 3:55.4. She has been astutely handled by Clevedon trainer Barry Purdon and heads the leaderboard for the $150,000 Four-Year-Old Diamond at the Harness Jewels in Ashburton at Queen's Birthday Weekend.
Across the Tasman another product of Arden Lodge at Tapanui, Arden's Legacy, also from Panspacificflight's second crop, has now won seven races in Australia. Good enough to place in the Kindergarten Stakes at two, he scored his most recent win at Cranbourne in Victoria on 11 April.
Thisismylastflight has won four races from just seven starts for Canterbury trainer Steven McRae and looks a topliner in the making. He's out of a Christian Cullen mare.
Also in Canterbury Julia Lady has had a profitable autumn with back-to-back wins on the grass. The Panspacificflight mare has now won three races. Another from the same crop also out of a Holmes Hanover mare is Ansett Flight, who has won twice.
So far Panspacificflight has left 10 winners from his second crop. The tenth was Tangled Up In Blue, who gave Macca Lodge co-proprietor Brent McIntyre his first win as a trainer since Tony Stratford's departure late last year when he won on the grass at Gore in February.
And Tony got his first win from his new Gore base with the Panspacificflight mare Pantastic at Forbury Park on 16 December.
Heart-warming story of PANSPACIFICFLIGHT gelding's gift of life
BROOKLYN FLIGHT is the horse that keeps on giving. From the first North American crop of Macca Lodge sire Panspacificflight, the eight-year-old gelding won his 40th race at The Meadows in Pennsylvania on 27 August in the pretty sharp time of 1:50.4. His earnings are somewhere north of $US350,000. But that's only part of the story.
"It's unbelievable how one horse can bring so much joy to your friends and family, " his trainer says.
PANSPACIFICFLIGHT PIN-UP GIRL Arden's Choice posts 1:55.1 mile rate
ARDEN'S CHOICE doesn't have anything left to prove on the track but she continues to be Macca Lodge sire Panspacificflight's best advertisement.
On 02 September in Auckland she stormed to her first four-year-old win, nosing out her victor from the week before, stablemate The Faithful, with hot favourite No Doctor Needed just a nose away in third in the 1700-metre sprint. Arden's Choice cut out her final 800 metres in better than 54.9. Her mile rate was 1:55.1.
Click here to watch Arden's Choice's narrow win.
West Otago owners John and Judy Stiven and Les and Lynette Roseveare were on-course to watch the race. Then the next night they accepted the trophy for Three-Year-Old Filly of the Year at the North Island harness racing awards.
The Group I-winning mare has run into rich form for Clevedon trainer Barry Purdon this season. She's now had two wins and three seconds in her last five starts. This was win No. 6 and it took her earnings past $223,000.
Three horses bred at Arden Lodge won within a week — the others were Arden's Legacy in Victoria and Arden's Concord at Oamaru — and they're all by Panspacificflight.
Panspacificflight colt wins $75k Sires Stakes race in United States
PAVER JACK wasn't rated much of a chance in the $US75,000 Indiana Sires Stakes Final, but he didn't know that and came from off the pace to win the feature pace at Hoosier Park in Indiana.
One of three sons of Macca Lodge sire Panspacificflight in the feature race for three-year-old colts and geldings on 09 July, Paver Jack took nearly four seconds off his lifetime mark with a mile time of 1:51. He was at odds of 28 to one.
The win was a timely boost for Panspacificflight who is again standing at stud in Indiana after being lightly patronised in his one season in Ohio. It showed that his progeny remain competitive with the latest headline stallions. Panspacificflight has left the winners of more than $US14 million in the US.
Paver Jack has now qualified for the $US200,000 Indiana Sires Stakes Super Finals in October.
Like Panspacificflight's latest New Zealand winner, Arden's Concord, he's out of a mare by a son of Artsplace. It's no surprise that Panspacificflight is clicking well with mares descended from Artsplace as he's a half-brother in blood to Art Major as well as a half-brother in blood to the dam of Captaintreacherous and closely related to other top-performing racehorses, broodmares and stallions by Artsplace.
For more information on this, click here
Arden's Concord was most impressive at Forbury Park on 14 July. He pinged to the lead from the outside of the gate over 2200 metres and kept up a strong tempo to win in the fast time of 2:40.5 on a winter's night down south. That was a mile rate of 1:57.3. He's now had four wins and three seconds from 15 starts and won't be hard to place in his five-year-old season.
Click here to watch Arden's Concord in action
Arden's Choice and The Manipulator perform on premier day
MACCA LODGE'S Brent McIntyre was at Addington on 21 May to watch two Panspacificflight progeny race on premier day — and he was wearing a big smile after they'd recorded a win and a third placing in a Group I feature.
Three-year-old filly Arden's Choice overcame the worst draw — the outside of the front line — to run a stout third behind the All Stars Stable pair Dream About Me and Golden Goddess in the $150,000 New Zealand Oaks.
Her run for fourth in the Nevele R Fillies Series Final the week before mightn't have convinced many that she was in the top four fillies in the country, but this run did. Zac Butcher had no option but to drop Arden's Choice to the rear early in the 2600-metre mobile. When Dream About Me moved with a lap to go, Zac followed another horse around behind her and got a three-wide drag down the back straight. The two leaders pinched a break on the turn and Arden's Choice kept up a big run wide out to outstay the third Purdon-Rasmussen contender Piccadilly Princess. The rest were seven lengths behind.
The race was run in a punishing 3:11.6 on a slushy track.
Arden's Choice, a daughter of Broodmare Excellence Award winner Winter Rose, has been a wonderful advertisement for Panspacificflight and has been unlucky to run into a champion filly in Dream About Me in her two and three-year-old racing. Even so she's built up a fine record in Group I racing with a win as a two-year-old in the Woodlands Stud-Caduceus Club Classic and now placings in four other Group Is. She's won nearly $200,000 in stakes.
If the draws work in her favour, Arden's Choice is a winning chance in the Three-Year-Old Diamond at the Jewels at Cambridge at Queen's Birthday Weekend.
Brent had flown up for the races with his neighbour Neil Timms, the breeder and part-owner of The Manipulator, with the expectation they'd be enjoying the club's hospitality in the president's room after the second race.
The punters thought so, too, sending the four-year-old Panspacificflight gelding out a $1.30 favourite in his first start for a year. He was driven accordingly by Natalie Rasmussen, who sent him forward four-wide with a round to go to sit parked. He held on to win by a neck in 3:14.2 for the 2600-metre mobile.
This was a special win for a horse with a bumpy career to date.
The Manipulator went through the 2013 yearling sales and was picked up by Auckland trainer Tony Herlihy for $20,000. But Tony had problems with his gait and within a year he was back at his birthplace, Macca Lodge. There the boys gradually ironed out his problems and he became Panspacificflight's first New Zealand winner when successful at Winton as an early three-year-old in 2014.
He was transferred to the All Stars Stable in Canterbury where he had another win and two seconds before injuring his knee last autumn in his fifth race-day start. The Manipulator might not be the best-gaited horse, but he should be winning plenty more on ability.
There was another reason for Brent's smiles on Saturday. Macca Lodge own a full sister to The Manipulator born last spring.
Arden's Choice back to her best ahead of more Group racing
TRAINER BARRY PURDON took the reins himself behind three-year-old filly Arden's Choice at Alexandra Park on 07 April and timed her run to perfection.
The Panspacificflight filly came from last with a round to go in a C2-5 pace over 2200 metres to down Brydon Ideal in the last few strides. She posted a slick time of 2:39.4 with the last half run in 55.8 off the front. Keen observers would note that she was about eight lengths off the lead with 800 metres to run and must have run her last half in close to 55 seconds — and she did it three-wide.
Barry decided to drive the filly himself to get a better feel for her progress ahead of the Group racing ahead. Arden's Choice has had a tendency to break stride in some of her races, including her previous start in a Nevele R Fillies heat at Cambridge. She didn't put a foot wrong this time to record her fourth win and her first for Barry after earlier being with his brother Mark and partner Natalie Rasmussen in Canterbury.
Arden's Choice, with earnings of $179,000, has been the main flagbearer for sire Panspacificflight, whose frozen semen is available at Macca Lodge.
Since winning the Group I Caduceus Club Fillies Classic in Auckland as a two-year-old last April, Arden's Choice has had seconds in the Harness Jewels (Group I) and the Ladyship Stakes (Group II) as well as thirds in the Sires Stakes and the Northern Oaks (both Group I).
She has three more Group I targets remaining this season — the $140,000 Nevele R Fillies Final at Addington on 14 May, the $150,000 New Zealand Oaks at Addington on 21 May and the $150,000 Three-Year-Old Diamond at the Harness Jewels at Cambridge on 04 June.
ANOTHER RISING STAR BY PANSPACIFICFLIGHT: SOUTHERN PURSUIT WINS THREE IN A ROW
HOW GOOD is Southern Pursuit? That's the question racing pundits are asking themselves after the Panspacificflight four-year-old gelding demolished a two-win field in record time at the Northern Southland meeting at Invercargill on 14 January.
Trainer-driver Clark Barron drove Southern Pursuit in his usual aggressive style, pushing him to the lead early from the mobile gate, before trailing the warm favourite Zenmach, retaking the lead and careering away to win by more than six lengths.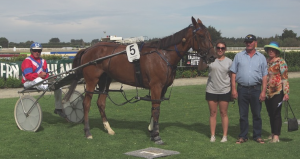 Click here to see Southern Pursuit's latest win at Invercargill
Running his last half in 56.9, Southern Pursuit stopped the clock at 2:40 for the 2200 metres (a mile rate of 1:57), a Southland record for a male pacer. This was his third win from three starts this season. He's now won four from six overall for Southland owners Peter and Julie Keast.
They bred him from their Live Or Die mare Relentless Storm. The only other Live or Die mare put to Panspacificflight in his first season here was Evita Franco, who produced Little Rascal, the winner of six races so far. So that's a cross worth keeping an eye on.
LITTLE RASCAL AND SIR MAC'S MAN EACH SCORE THEIR SIXTH WIN FOR SIRE PANSPACIFICFLIGHT
PROGENY from Panspacificflight's first New Zealand crop, now four-year-olds, have been in top form on either side of the Tasman.
Little Rascal was a winner in premier company on Show Day at Addington and backed that up with a comfortable win on his favourite track, Alexandra Park, on 11 December. The only surprising thing about this result was his $12 win dividend as Little Rascal was dropped to the rear by driver John Dunn from his wide draw over 2200 metres before zipping around to lead with a lap to go and sprinting his last half in 56.6 to win easily.
Have a look at the latest of Little Rascal's five Alexandra Park wins here.
Little Rascal has proved a good money spinner for owner Ian Dobson, of Christian Cullen fame. Ian bought him as an unraced early three-year-old out of Craig Kennedy's Cust stable last year. He's been most consistent, posting six wins, five seconds and five thirds in his 25 starts for earnings just shy of $75,000.
"I think he is the most honest horse I've ever trained in my life," trainer Robert Dunn told Harness XPress after his latest win.
Not surprisingly Ian is a fan of Panspacificflight and has booked mare Idancedwithcullen to him this season.
Little Rascal, who was conceived in Canterbury with frozen semen supplied by Macca Lodge, is out of Evita Franco, a Live Or Die half-sister to Franco Enforce. The only other Live Or Die mare sent to Panspacificflight in his first season here produced Southern Pursuit, who won on debut for trainer Clark Barron last season and resumed with a most impressive win in a penalty-free junior drivers' race at Winton on 19 December.
Click here for more breeding tips on Panspacificflight
Southern Pursuit ran an astonishing time in the one-win grade of 2:55.4 for the mobile 2400 metres, a mile rate of 1:57.5. Some average horses run very fast times at Winton but this was a huge run fresh-up because he was three-wide and then parked out for the last lap and copped a check that cost him three or four lengths down the back straight.
Take a look at Southern Pursuit's Winton win for yourself
That was a penalty-free win so it was no surprise to see Southern Pursuit notch his third win from just five starts at Roxburgh on 04 January. He didn't beat much but did the donkey work and rated 1:59.5 for the 2180-metre mobile.
The winners keep rolling home for sire Panspacificflight not just in New Zealand but also in Australia and North America.
In Victoria the former Kirk Larsen-trained Sir Mac's Man has resumed with two outstanding wins at Geelong on 03 December and at Melton 12 December, taking his record across the Tasman to six wins from just eight starts.
Little Rascal, Southern Pursuit and Sir Mac's Man are among 11 winners from Panspacificflight's first crop of just 23 foals — an impressive winning strike rate of nearly 50 per cent. There's real depth among them with other performers like Glenisla (1:55.5, seven wins in Australia), Wick (five wins, including three at Addington), Arden's Concord (three wins), The Manipulator (two wins before he suffered a knee injury) and Last Flight In (1:53.8, seven wins).
Click here for a full rundown on Panspacificflight's impressive first crop
And in North America Panspacificflight's three-year-olds have won more than $US1 million in stakes in North America this year. The latest winner was Jd's Macca Lodge — named after you-know-who — in 1:53.3 at the Meadows in Pennsylvania on 07 December. Just two days earlier Pistopackinpiper won in 1:52.1 at the Meadowlands in New Jersey.
This year two of Panspacificflight's two-year-olds have won in 1:53, five three-year-olds in 1:51 and four aged pacers in 1:50. His proven crosses there are with Presidential Ball, Grinfromeartoear and Artsplace.
Click here to find out why you should send your Artsplace mare to Panspacificflight
PANSPACIFICFLIGHT FILLY SNARES ANOTHER GROUP 1 PLACING
ARDEN'S CHOICE can lay claim to being New Zealand's second-fastest two-year filly ever after finishing second to her stablemate and hot favourite Dream About Me on Jewels Day at Ashburton.
Dream About Me is being compared with her close relative Adore Me after smashing the national record in the Group 1 $150,000 Two-Year-Old Diamond with a time of 1:53.3 after being three-wide and then parked out. Arden's Choice, just over a length behind, was timed at 1:53.5 and was also within the old record.
Arden's Choice, now back in work after a winter spell at Arden Lodge in West Otago, had an outstanding first season campaign during which she gained a first, second and third in her three Group 1 starts and earned nearly $129,000.
Her efforts have pushed Panspacificflight up to third place on the sires' list for two-year-old pacers, behind Bettor's Delight and Mach Three (and directly ahead of Art Major, American Ideal and Christian Cullen).
Panspacificflight had a second Jewels runner in Little Rascal, who qualified seventh for the $150,000 Three-Year-Old Emerald. He never got into the race from the outside of the second line.
An injury to The Manipulator denied Panspacificflight a second possible starter in the same race. He was a hot favourite in a Super Series Final race at Addington on 09 May that could have taken him into the Jewels field but suffered a knee injury and has been put aside until next season.
Even so, to have two runners on Jewels day from just 55 eligible foals was a fine achievement for Panspacificflight. To put this in perspective, Changeover — who became available to New Zealand breeders the same year as Panspacificflight — had two Jewels runners from his 247 two and three-year-olds (and both of them, Prince of Pops and Change The Rulz, got a start only through withdrawals).
Underlining this achievement, only Bettor's Delight (21), Mach Three (eight), Art Major (six) and American Ideal (four) had more starters in the two and three-year-old pacing divisions than Panspacificflight. The great Christian Cullen, even with the quality mares he continues to attract, did not have one runner in either of those divisions from 130 foals.
ARDEN'S CHOICE: GROUP 1 GLORY AT ALEXANDRA PARK
IF YOU'D SUGGESTED to him a couple of years ago that he'd be getting into the racing game, West Otago sheep farmer Les Roseveare would have said "you're in Disneyland". And as for the friend responsible for drawing him in, well, he's already in Disneyland.

Les and his wife Lynette had no involvement in harness racing until they decided to lease their Crookston property and were probably thinking they needed to develop some outside interests. At the same time their friends John and Judy Stiven, proprietors of the famed West Otago standardbred nursery, Arden Lodge, encouraged them to lease a half-share in a Panspacificflight filly they'd bred.
When the Roseveares agreed, one family member was even heard to question her parents' sanity. Not so much now.
On 17 April 2015 in Auckland the Stivens and the Roseveares cheered their two-year-old filly Arden's Choice to a four-length win in the $113,000 Group 1 Woodlands Stud/Caduceus Club Classic. The following week she ran third to stablemate Dream About Me in the Group 1 Magness Benrow Sires Stakes Final after being caught three-wide and parked out on a record pace.
In seven starts Arden's Choice has had two wins, two seconds and a third for nearly $104,000 in stakes.
Now this really is Fantasyland. "It is pretty unbelievable," Les says. "This is a whole new ball game for us and it's great to be involved."
It just so happens that John is in a Walt Disney Studios remake of the action movie, Pete's Dragon, being shot in the Tapanui district, which was why he was sporting a distinctive beard. The talk late on a Friday night is that he's co-starring with Robert Redford. Other sources suggest he's an extra who may be left on the proverbial cutting room floor.
If so, John will get over it. The next big offer mightn't be far away. They could make a movie about a Kiwi breeder who, back in 2010, spotted a well-bred young sire in a North American stallion directory, whose first crop of two-year-olds was just starting to make a mark on the track, and suggested to a local studmaster that he inquire about the availability of frozen semen down under.
About how that studmaster, Brent McIntyre, of Macca Lodge, clinched a deal with Jacob Miller, the Indiana owner of Panspacificflight, "with a handshake on the phone".
About how — after Panspacificflight had been available to New Zealand breeders for one season — Brent, with John and prominent Southland breeder Mark O'Connor in tow, visited the Amish community of Shipshewana to meet Jacob and view the stallion and his progeny, who by now were impressing as two and three-year-olds.
About how John was so impressed with what he heard about Panspacificflight as a racehorse and could see of his offspring that he wanted to book in seven Arden Lodge mares to him — and convinced his mother, Noreen Stiven, to do it (sadly she passed away a couple of months before these foals were born).
About how Panspacificflight's first New Zealand starter in a Group 1 race, Arden's Choice, would vindicate her breeder's judgment, provide a huge thrill for the owners and spark a decent celebration at Macca Lodge in Southland.
Take a look at Arden's Choice's win here: ▶ Auckland 17 April 2015 Race 6 – YouTube
And according to co-trainer/driver Mark Purdon there's more to come. Here's what he had to say about Arden's Choice after the race: "She's getting better with every start . . . she feels like a filly with a lot of bottom to her and I think the further she goes the better she'll perform.
"The Stiven family bred this one and I'm sure Noreen was looking down from above, cheering us on."
While the Stivens had bred five previous Group 1 winners — Arden Meadow (West Australian Derby), All Hart (Great Northern Derby), Bettor's Strike (Victoria Cup), Arden Banner (Sires Stakes), Arden Rooney (Hunter Cup) — Arden's Choice is their first Group 1 winner as owners, after earlier placings with Arden's Darlin, Southwind Arden and Rocknroll Arden.
No wonder, all in all, that John Stiven is on a Hollywood high.
He says a lot of breeders thought they were mad booking so many mares — including their gem, Winter Rose, the dam of Arden's Choice — to Panspacificflight, who was regarded here as an unproven sire. "But he wasn't unproven as far as I was concerned . . . Not many here have cottoned on to him. I think that's going to change now."