PANSPACIFICFLIGHT five-year-old gelding Little Rascal has been transferred from Robert Dunn's Auckland training base to his Woodend Beach stable in Canterbury ahead of the Cup meeting at Addington next month.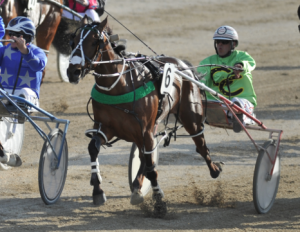 As the winner of seven races, Little Rascal is well-placed in a C3-5 mobile over 1950 metres at Addington on Friday night. He has had two unplaced runs at Alexandra Park this campaign, blocked for a run in the straight in the first and losing his chance at the start in the second.
Owned by Christian Cullen's owner Ian Dobson, he was a winner on Show Day at Addington last year.
With earnings of $96,000, Little Rascal is poised to become the second of Panspacificflight's progeny to break the 100k mark in New Zealand. Four-year-old mare Arden's Choice, who starts in the Kerry Hoggard Memorial–The Holmes DG Pace at Alexandra Park on Friday night, has won $223,000.