PANSPACIFICFLIGHT — Proven sire at a bargain price
THE PANDEROSA-YOU CAN FLY (BY NIHILATOR)
p, 2, 1:53; 3, 1:50.6 ($US368,843)
Bay horse. Foaled 2001. 16.2 hands.
HE MIGHT BE low-flying compared with the most commercial stallions in New Zealand but Macca Lodge sire Panspacificflight is compiling a record others are struggling to match.
From only 23 live foals in his first crop born here in 2011, 15 individual winners have amassed more than 130 wins in New Zealand, Australia and the United States. Quality horses among them include The Manipulator, Little Rascal, Sir Mac's Man, Last Flight In, Arden's Concord, Southern Pursuit, Wick.
And from his second crop came top racemare Arden's Choice, a Group I winner at two, a placegetter in the 2016 New Zealand Oaks and the 2016 Auckland Cup, and the winner of $282,000 in stakes.
Panspacificflight is very closely related to Art Major. Their dams are full sisters
Panspacificflight was a class act on the track and he's a Western Hanover line stallion from one of the hottest maternal families in harness racing that has produced Art Major and Captaintreacherous. No wonder then that this proven sire in North America is now replicating his success in New Zealand.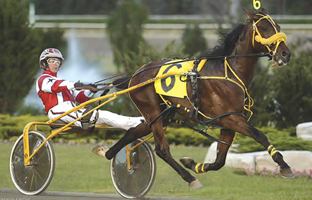 His overall record in North America speaks for itself. His progeny have won more than $US20 million in stakes at an average of $US37,000 for every foal registered.
Panspacificflight has left a total of 239 winners there, 131 two-year-old winners, 145 1:55 milers, six in 1:50 and 60 who have won more than $US100,000 in stakes. Five have won more than $US500,000 — Fridaynightflight (1:51.6), GD Airliner (1:50), Paco Labrook (1:48.8), Flight Elal (1:50.8) and Tiber Tyke (1:50.2). Some of these horses, from his first crop, were winning as two-year-olds and are still winning in 2018 as 10-year-olds.
Panspacificflight made an immediate impact at stud. He served 160 mares in 2007 and the resultant crop made him the Indiana Pacing Sire Of The Year, for all ages, when he had just two-year-olds racing. That's quite an achievement. Not surprisingly, he won the title the following season, too, when he had two and three-year-olds racing.
And Panspacificflight had one of his best years in 2014, when he nearly topped $US2 million in stakes, his two-year-olds winning nearly as much as the stock of Mach Three. He had 28 two-year-old winners in 2014, with nine in 1:55 or faster. As three-year-olds the following year, those horses won more than $US1 million in stakes.
As a broodmare sire, Panspacificflight is starting to make his mark in North America. As at 15 March 2019, his mares had left the winners of $US540,000.
Panspacificflight won his first four starts as a two-year-old and seven of his nine starts that season, losing only when he broke stride. As a three-year-old he raced against the very best of his age, setting his best time parked out in a division of the Burlington Stakes at Woodbine in Canada. He failed by only a head and a head to emulate his sire, The Panderosa, and win Canada's richest race, the $C1.6 million North America Cup.
Trainer Brian Magie compared Panspacificflight with The Panderosa (1:49.3, $US1.4 million):
"He has his father's sheer speed and determination. He has an extreme burst of speed and he can continue it for a long way. He can go on the outside the whole way and never tire. I know what it takes to win a race like the Meadowlands Pace, and he has all the qualities, the talent, the heart and the desire."
"Panspacificflight was one of the most natural horses I have ever seen"
Luc Ouellette, driver of Panspacificflight, 2010
But it's Panspacificflight's maternal line, a branch of the Romola Hal family, that sparks most interest. His grandam is the Big Towner mare Rodine Hanover, a world champion herself at two and one of the all-time great North American broodmares. She left 11 winners, including top stallion Real Artist ($US424,000) and Michelle's Revenge ($US432,000).
Consider this. Rodine Hanover also left three Nihilator daughters — World Order, the dam of US Two and Three-Year-Old Pacing Filly of the Year Worldly Beauty (1:49.3, $US1.9 million) and Worldly Treasure, the dam of Somebeachsomewhere's best-performing son Captaintreacherous; Perfect Profile, the dam of sires Art Major and Perfect Art; and You Can Fly, the dam of Panspacificflight and Theredandpanlines (1:49.2, $US925,000).
Real Artist, Worldly Beauty, Worldly Treasure, Art Major, Perfect Art and Thereandpanlines are all by Artsplace, so you don't have to look any further than Panspacificflight if you have an Artsplace mare. Click here to read more about Panspacificflight and Artsplace.
And click here for more breeding tips on Panspacificflight
PANSPACIFICFLIGHT
Service Fee: Negotiable, please contact us. Payable on 42-day Positive Test (Frozen Semen)
Macca Lodge also makes his frozen semen available at other centres in New Zealand.
Click here for updated information on Panspacificflight's breeding and siring performance