macca lodge coup: fear the dragon available in New Zealand this season . . .
CHAMPION AMERICAN racehorse and young sire Fear The Dragon has been added to the Macca Lodge stallion roster for the coming breeding season.
One of the richest and fastest sons of the great sire Dragon Again, Fear The Dragon will hold extra appeal to New Zealand breeders as an outcross stallion.
Click here for Fear The Dragon's pedigree page
What a sensational racehorse he was. He went 1:50.4 as a two-year-old, winning five of 11 starts in his freshman year before coming into his own at three. He was a multiple Grand Circuit stakes winner with his biggest win coming in the $1 million North America Cup, defeating other outstanding three-year-olds in Downbytheseaside and Huntsville, in taking his life-time record of 1:48.8.
Take a look at his North America Cup victory:
Fear The Dragon was retired for stallion duty 100 per cent sound with a record of 17 wins from just 29 starts and earnings of more than $US1.5 million.
Now just five, he has had full books of 140 mares in his first two seasons at stud in Ohio with his first foals now on the ground. His first Australian crop will be born this spring with Yirribee Pacing Stud in New South Wales accessing his frozen semen last season.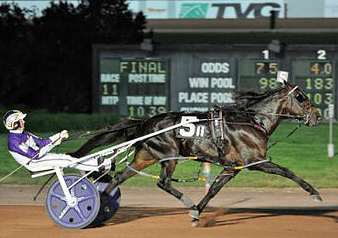 "We're absolutely rapt to be able to offer this fellow," Macca co-proprietor Brent McIntyre says. "He was a fantastic racehorse, he's from a very good family and he's a stunner to look at. And, being by Dragon Again out of a Western Ideal mare, he can be bred to just about any New Zealand mare."
Fear The Dragon is available at $4500 plus GST on a positive test or $6000 plus GST on a live foal. There's a generous discount for multiple bookings and, in an innovative move, breeders can pre-pay as little as $2000 plus GST if they carefully select the correct time to breed their mare and she gets in foal with one dose.
Contact Brent on 027 752 2284 for more information.
Click here for more information on Fear The Dragon
. . . MACCA LODGE also standing French trotting sire En Solitaire
He's the first son of super sire Ready Cash to stand in New Zealand
Click here for more info on En Solitaire
MACCA LODGE: FROZEN SEMEN base for FEAR THE DRAGON and PANSPACIFICFLIGHT. ALSO STANDING NET TEN EOM, FRANCO LEDGER and EN SOLITAIRE
You do not have to send your mare to Southland to be served. Macca Lodge provides other NZ breeding centres with fresh Net Ten EOM and En Solitaire semen and frozen Fear The Dragon and Panspacificflight semen.